The Geysers of Yellowstone National Park continued...
Y
ellowstone is massive - encompassing more than 2.2 million acres. The park can be very crowded, especially during high tourist seasons. Entrance gates are open 24/7 so arriving early allows the opportunity to see active wildlife and gorgeous sunrises without the crowds. Established in 1872 as the world's first national park, it remains as the leading collection of geysers, hot springs, mudpots and steam vents.
---
WHERE TO GO - COLORFUL GEYSERS - YELLOWSTONE NATIONAL PARK
Hot springs are the most common features in the park varying from boiling water to clear and colorful pools with extensive depth. Geysers are hot springs with very small spaces that constrict and prevent water from circulating to the surface where heat would escape. This causes pressure to increase and as the water rises, steam forms bubbling upward. The water can exceed the surface boiling point of 199 degree F or 93 degree C.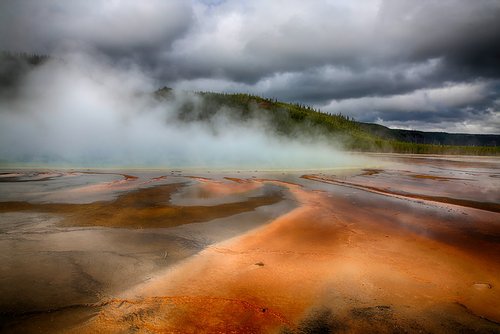 WHERE TO HIKE - ERUPTING GEYSERS
Geysers will erupt. These are outstanding to see, but don't stand too close as the boiling and gushing water may just be enough to spray you too. Whe close enough you can see the water the water bubbling - because it is so hot.
WHERE TO DRIVE - FUMEROLES (STEAM VENTS)
The fumeroles are the first big attraction when entering the park. We were stopping along the side of the road (in one of the multi pull-out spots - which are located very short distances apart in the park. Excellent feature of the park - especially for photographers.) It was such an amazing site, but little did we know that this was not the main attraction. As we got closer and found we could walk right up beside them, then the real "wow" factor started.
IMPORTANT NOTES
While visitng Yellowstone National Park will be a highlight for you, it will not be the highlight for your dog. Dogs are only allowed in the parking lot and not far off from that. Dogs are not allowed even on the boardwalks around the geysers. It is important to plan ahead if you are visitng with your fur baby.
Bison roam freely throughout the park, and while these are fun to see, you need to use caution. Many try to take "selfies" with the bison....and many have been hurt. Also you must be aware for bears as they are throughout the park as well. Signage is everywhere.